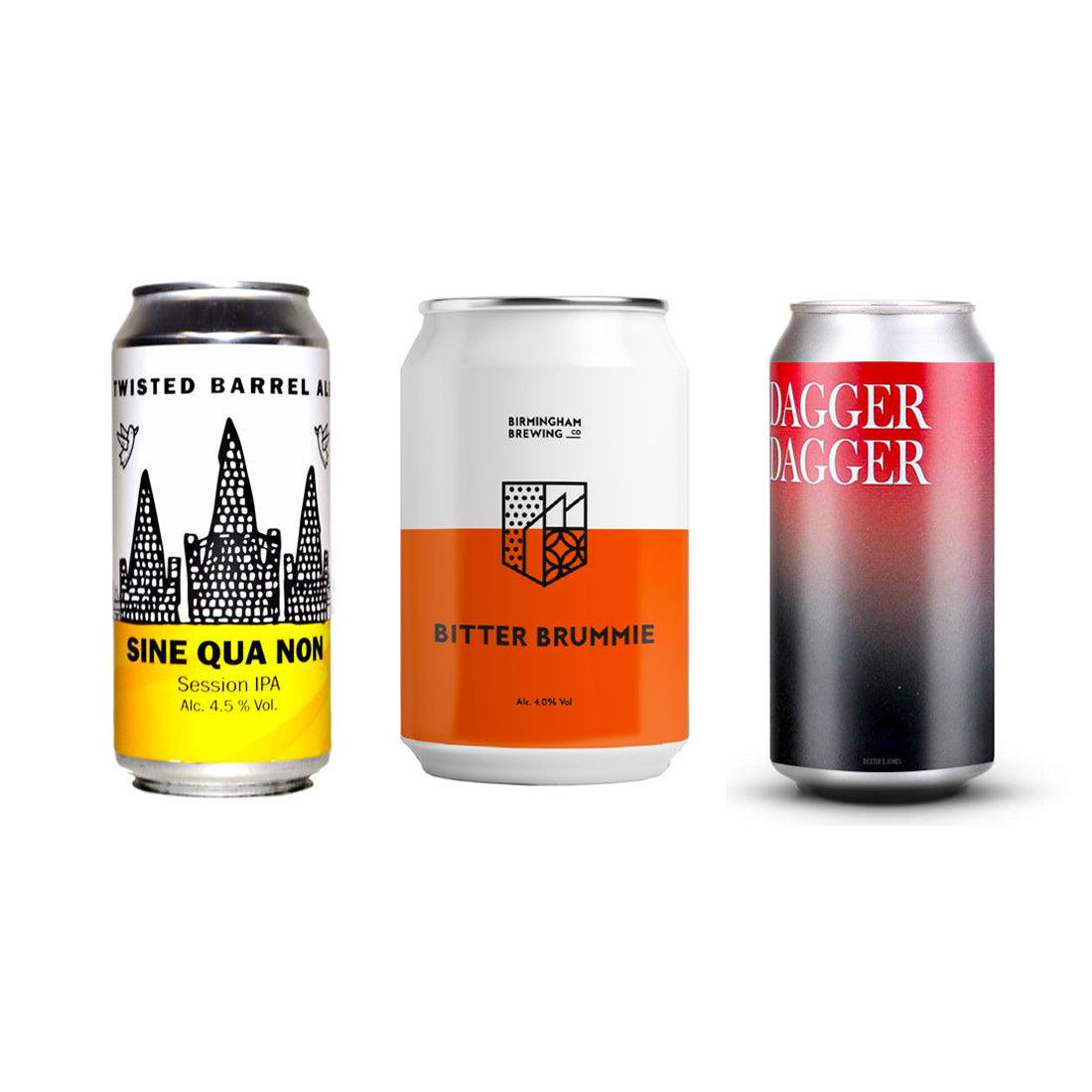 At Burning Barn we have always been inspired by the craft brewing scene and what better time than Octoberfest to showcase some of our favourite local breweries. 
Birmingham Brewing Co - Stirchley. 
Set up in 2016 by Paul Harwood, Birmingham Brewing Co. have been instrumental in bringing the craft brewing scene to England's second city. With a core range that harks back to the traditional brews of the Midlands punctuated with modern techniques and flavours, Birmingham brewing have established a well-deserved following amongst the discerning beer drinkers around their manor in Stirchley and further afield. 
Their core range includes a Citrus Pale Ale, IPA, Oatmeal Stout, Lager and a Tripled Hopped Bitter showing there is something at Birmingham Brewing for every beer drinker. Visit their Taproom or frequent one of the pubs they supply, and you might be lucky enough to encounter one of their limited-edition brews; innovative and bursting with flavour these beers mark out this brewery as an authentic fixture of the Midlands scene.
Birmingham Brew Co should be high on your list of "beers I need in my life". 
They have just moved to a new site with a bigger and better taproom that we can't wait to visit. Twice monthly they host taproom events with amazing local street food and beers fresh from the tank and they also stock our Rums! Check them out at www.birminghambrewingcompany.co.uk @brumbrewery
Beer and Rum Pairing: Spiced x Brummie Bitter 
Cool the fire of our Spiced Rum with the rounded caramel malt notes of the Bitter Brummie - signature Bitter from the Birmingham Brewing Co. 
Twisted Barrel Brewery and Taphouse - Coventry.  
Started in 2014 on a 60l brew kit this brewhouse has surfed the craft beer wave and now knocks out a mind-boggling array of innovative brews at their new 4000l capacity facility in the achingly trendy Fargo village in Coventry. Who'd have thought it. 
Currently offering 12 regular and 12 seasonal beers throughout the year, along with a special edition one off beer making it's way into can each and every month. Seasonal favourites continue, with Wake Up Juice, Brobdingnagian and Dark Night Rises, being brewed in Summer, Autumn and Winter respectively.  
The Tap House is where you can get all of Twisted Barrel Ale's core beers first and freshest.
Enjoy your beer in the same space that the beer is actually brewed and marvel at the shiny equipment on display at one end of the building. After having recently moved units, but still staying on FarGo Village their new opening hours are as follows:
Wednesday - 2pm to 10pm
Thursday - 2pm to 10pm
Friday -  Midday to midnight
Saturday - Midday - midnight
Sunday - 2pm to 10pm
We can't recommend a visit enough, the Fargo village has an awesomely progressive selection of restaurants that perfectly compliment the delicious beers stocked alongside our Smoked and Spiced Rum at the Twisted Barrel bar. 
Beer and Rum Pairing: Smoked x Sine Qua Non 
Something magical happens when you pair tropical aromatic citrusy flavours with the intense smokiness of our apple wood Smoked Rum. A sip of Twisted Barrel's "Sine Qua Non" Session IPA, provides a piney, hoppy, tropical foil to our epically smoky rum.  
Digbrew - Digbeth. 
Amazing beers. Stocks all 3 of our rums. Awesome brewery space in central Brum. Does pizza. 
Need we say more? Probably not, but as you've got this far it would be remiss to not expand more on this temple of booze nestled in the industrial heart of Birmingham. Leading the way with innovative and enigmatic brews, the best way to discover their beers is to visit the taproom open on Friday and Saturday or to explore the independent pub and bar scene that is ever expanding across Birmingham.  
If you are lucky enough to encounter these brews, strap in, you're in for a ride. Black Country inspired bitters, IPAs of every colour and creed, stout, gose, radlers, pilsners…. An almost psychedelic selection of flavours and styles that will satisfy the most adventurous of beer gourmands. With names like "Spagetti Cowboy Template", "Speaking for Rainbows", "Breakfast Juice" and "Malkovitch Malkovitch" you can be sure that this won't be your average beerski.  
Beer and Rum Pairing: Honey x Dagger Dagger 
"Dagger Dagger" is a Cryo and T90 citra dry hopped Imperial IPA. Coming in at 8% this is a tropical fruit bomb of a beer with a hint of butterscotch at the end and pairs beautifully with our Honey and Rum liqueur. 
---