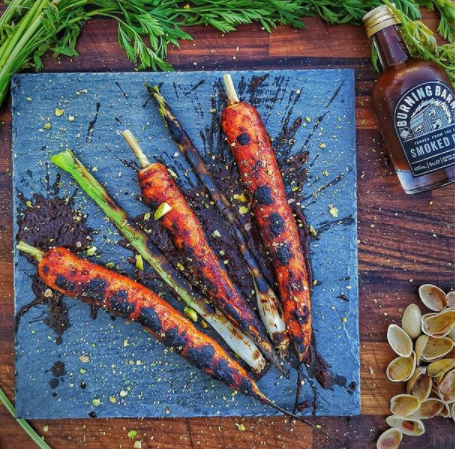 A good hog roast over an open fire has always done us well, but occasionally we like to turn our hand to finer culinary delights. With the nights drawing in and the rain putting an end to our outdoor fire pits  we've retreated indoors and naturally found ourselves in the kitchen, whipping up some truly sumptuous recipes.
With rum to hand we couldn't help adding a tipple or two for an extra splash of flavour and my did it give some pretty spectacular results. We've narrowed it down to our three favourite recipes for you can try at home over the festive period. 
Smoked BBQ Rum with Charred Carrots 
Now this may not be the whole hog, but it is one heck of a fantastic side to have with your Christmas Dinner. C
ourtesy of 
@theruggedche
f
 - Burning Barn hero and BBQ connoisseur - may we present
 the most delectable Burning Barn Smoked BBQ sauce, served here with charred carrots glazed with the sauce.
Ingredients 
1 cup firmly packed dark or light brown sugar
½ cup ketchup
3/4 cup Burning Barn Spiced Rum
1 tablespoon jerk seasoning blend
1 teaspoon lime zest
2 tablespoons fresh lime juice
2 tablespoons soy sauce
1 teaspoon grated fresh ginger
2 garlic cloves, minced
¼ teaspoon liquid smoke
For the rum:
Combine ingredients in a small saucepan over medium heat. Simmer 5 to 7 minutes or until slightly thickened. We then recommend turning it down to a really low heat while you prepare the carrots.
For the carrots:
Place the carrots on a sheet pan and drizzle them with the olive oil. Sprinkle with the thyme, 1 1/2 teaspoons kosher salt and 1/2 teaspoon pepper. Toss with your hands until coated, then spread the carrots out in an even layer.
Broil the carrots for about 10 minutes, tossing every few minutes, until they are tender and randomly charred. Top the carrots with the warm BBQ sauce, sprinkle with some salt and toss to coat. Taste for seasonings, then serve warm or at room temperature.
Honey & Rum Liqueur Panna Cotta
This dish was inspired by the fantastic team over at the
Fig and Olive
, so a big shout out to them for their culinary expertise. With the whole of Christmas being shaken up this year, we thought we would try our hand at this delicious Italian dessert, it's incredibly easy to make and can be prepared in advance which makes it a winner all round. With such a delicate texture we decided to go with our Honey and Rum Liqueur for this - 3tbsp coming out as the golden amount after rigorous testing.
Ingredients
4½ leaves gelatine
750ml whipping cream
4¼t bsp caster sugar
3 tbsp Burning Barn Honey & Rum Liqueur
Pinch sea salt
Fresh raspberries, to serve
Plus: 6 metal pudding moulds, lightly oiled

Method
Soften the gelatine sheets in cold water for a few minutes.
Gently heat the cream, sugar and rum until the sugar dissolves, remove from the heat, add the gelatine and Honey and Rum Liqueur and stir to dissolve.
Pour the mix into the moulds and place in the fridge to set, for at least 5 hours.
Run a knife around the edge of each panna cotta to loosen the mixture.
Tip upside down onto a plate and et voila! Scatter raspberries on top and enjoy!
Spiced Indulgent Rum Truffles
We first stumbled on this gorgeous recipe back in November, and after several attempts have reached truffle perfection by adding a tipple of Spiced Rum. Whilst the consensus among your household may be to keep these truffles to yourself, we have discovered they make excellent Christmas gifts - hardy enough to travel by post and tend to win over even the most Grinch-like of those among us. Perfect if you're looking to try hand-crafted gifts this year and guaranteed to spread the Christmas Cheer!


Ingredients
100ml Double Cream
25g Salted Butter, cubed
300g Milk Chocolate
50ml Burning Barn Spiced Rum
120g Dark chocolate, broken into small pieces
2-3 Tbsp cocoa powder

Method
Add the cream and butter to a small pan and bring to boil.
In a heatproof bowl break the milk chocolate into fine pieces and pour the hot cream mix over the chocolate, leave for 1 min, then stir until smooth and combined.
Whisk in the rum, then chill in the freezer for 5-10 mins, or until just firm enough to roll.
Roll tablespoons of the mixture into balls in your hands, then transfer to a non-stick baking tray. Chill in the fridge for 1 hr, or until set.
Meanwhile, melt the dark chocolate in a small heatproof bowl set over a pan of simmering water, and put the cocoa powder on a plate. Dip the chilled truffles into the melted chocolate using a fork, then shake off the excess and roll in the cocoa. If the cocoa starts to get too sticky, add another 1 tbsp.
Put the truffles on a tray or plate lined with baking parchment and chill for 1 hour to set!
So there you have three spectacular recipes to try, if you're partial to drinking your rum and not willing to part with it for culinary pursuits then we can vouch that these recipes also work well without the rum, but if in doubt adding rum always adds an extra burst of flavour.
If you've been inspired to give any of our rums ago head on over to our
website
to get your hands on a bottle and as ever we love seeing your creations, so be sure to tag us #burningbarnrum @
burningbarnrum
.
---